Elo 10″

Retail

Tablet
_____________________________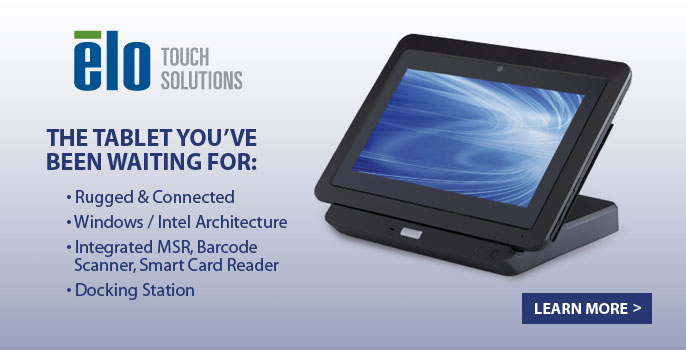 Professional Touch, Built for Retail
With a broad product portfolio, proven history of quality & reliability, and strong industry partnerships – Elo can help redefine how stores attract and retain customers. Elo's retail tablet directly answers the requirements of a mobile hardened store system for: Mobile POS, line busting, and inventory management. The Elo tablet delivers all the functionality for native POS transactions and shopper assist. For over 40 years, with installations at more than twenty million locations around the world, Elo Touch Solutions delivers dependable retail-hardened store systems. Market leaders across the globe rely on Elo store technology day in and day out to facilitate critical point of sale transactions, enhance brand experiences and drive interactive omnichannel portals. Elo provides the largest portfolio of systems supporting the largest breadth of touch technologies. Rather than requiring the user to adapt to one type of touch, Elo's architecture delivers broad flexibility of acoustic, capacitive, infrared, optical, projected and resistive technology which adapts to a variety of retail environments where mobility, design style, lighting, moisture, gloves, 24/7 reliability, and ease of retail deployment can all be optimized.
Overview
The Elo® retail tablet is designed to help retailers enhance their customer experience and drive sales efficiency through a point-of-service (POS) and point-of-information (POI) platform that is portable, intuitive, reliable and secure. Millions of real-life retail installations all over the world have helped Elo develop unique insight for this next generation of our touch computing innovation. Running Microsoft® Windows® and featuring an Intel® Atom™ processor with solid-state drive, the tablet has been purpose-built to support leading point-of-sale software environments and the mobile POS (mPOS) initiatives embraced by leading retailers. This is a tablet with all the centralized management and security capabilities of the Windows environment, in a commercial form factor that reduces theft risk. An integrated magnetic stripe reader, barcode scanning, removable battery and wireless printing/networking is housed in a form factor designed to withstand being dropped. A complementary docking station provides connectivity to a broad array of peripheral interfaces while also charging the main battery and an auxiliary battery pack simultaneously.

Hisense 10″ Rugged Tablet POS System Windows 8.1 Industry Pro
_________________________________________________________________
HM518 10″ Rugged Tablet POS System Window Pro 8.1 / 32-BIT / MCR
Rugged and Lightweight POS System for Harsh Environments
Run your retail or hospitality business more efficiently with the stylish, reliable and space-saving HM518 Rugged Tablet POS with Windows® operating system. The 10.1 inch, bezel-free and wide screen display is designed with Projected Capacitive (PCAP) touch technology that helps to extend the operating life and allow multi-touch control. Use the ports in the docking station to connect to a wide range of peripheral devices.
‣ 10.1″ Wide Screen
‣ Bezel-Free Flat PCAP Multi-Touch
‣ Standard Integrated Card Reader
‣ Sturdy Hand Strap Standard
‣ Meets MIL-STD810G Standards for Shock and IP54 Standards for Exposure to Water and Dust
Features
• Front and Rear Cameras
• Integrated Card Reader
• 1 Watt Speaker
• Sturdy Hand Strap
• 3 LED Indicators
• Protected Against Dust and Water Sprayed From All Directions (IP Grade IP54)
• Withstands a Drop of 4 Feet Onto Concrete (MIL-STD-810G)
• HM518 Rugged Tablet Includes a Built-In Battery, MCR, Standard Docking Station, Power Adaptor and Cord
Optional Devices / Upgrades
The HM518 Tablet is available by special order with these features:
• Integrated 1D Barcode Scanner
• 3G (WCDMA GPRS)
• GPS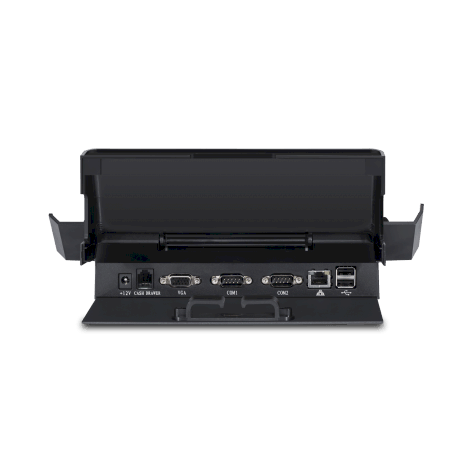 For the docking station with I/O Expansion, Click Here.
Leasing Options:
Matrix POS is now leasing, both the Elo and the Hisense Tablets for a low cost of ONLY:
$49/month each

 

– Price is set for a lease of the POS Equipment for 36 months only!
Includes Tablet, Training, Tech. Support & Warranty!