Menufy Online Ordering Integration
Our New Online Ordering Service!
Meridian Star Future POS uses Menufy for the elite integration between
your Point of Sales System, and their Online Ordering service.
Key Features of Menufy
• Service Comes with Built-In Integration With Our Point of Sales System
• Custom Online Ordering Menus on Your Website
• Mobile-Friendly Version Enabling Customers to Order Anywhere
• Support Team Available by Phone or Email to Handle Your Platform Needs
• Real-Time Menu Updates Available

Attract and Retain Customers. Widen your customer base through increased online visibility. Entice first-time customers and reward customer loyalty with coupons and promotions.

Increase Order Size and Order Frequency. Menufy clients see marked increases in both frequency of ordering and size of their takeout orders. Allowing your customers to place orders at their convenience makes a world of difference in your bottom line.

Keep Up with Your Chain Competition. The vast majority of national and regional chain restaurants offer online ordering for their customers. Keep your customers happy and orders coming in by having online ordering convenience available to your customers.

Foolproof Ordering Eliminates Costly Mistakes. Take the errors out of hand-written phone orders. Our multiple order notifications (email, text, fax & phone) ensure you'll never miss a beat. Filter orders by status, date or customer and make take-out scheduling and fulfillment more profitable.

Streamline Operations. Manage, communicate and plan more efficiently. Schedule your daily, weekly and monthly order load with ease and save time, allowing you to remain focused on the customer.

Increased Productivity. Say goodbye to workplace chaos with improved order clarity, organization and time management. Realize more order volume and increase your profits.

Establish Brand Consistency. Establish quality controls by uploading step-by-step production instructions, standardized recipes and item photos for each of your menu items.
Menufy

vs. Menu Aggregators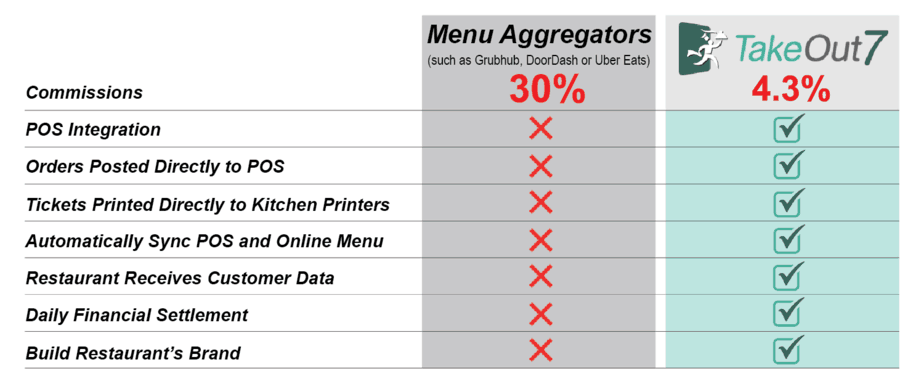 Key Features that Unlock Opportunities

Web & Mobile Ordering
Take your POS menus online –
we provide an awesome web
and mobile experience.

Kitchen Printing
Online orders print to your POS
printers just like in store orders
– say goodbye to manual entry.

POS Integration
Your online orders post directly
to your POS system – we make
the integration and setup easy.

Auto Menu Sync
All changes to your POS menus
are automatically posted to
your online menus – like magic.

Daily Settlements
We show you the money every
day – no more waiting a week to
collect your own revenue.

Instore Marketing
Tell customers you have online
ordering – we provide window
decals, table tents, and more.

Email Marketing
Tap into the power of targeted
email and build a customer
database that you own.

Training & Support
From setup and training to
ongoing support, you always get
the white glove treatment.

Dedicated Account Managers
You're our valued customer and
that means a lot to us – we'll be
at the ready when you need us.