Multi-Location Shop Management
As your service business grows, you need powerful tools that help you effectively manage your multiple locations and maximize your profits. Whether you own two shops or 100 shops, ManagerEnterprise Pro gives you central control of accounting, marketing, sales, operations and much more. And you can check in on each location remotely – from your headquarters, from the road, or even from the beach if you want.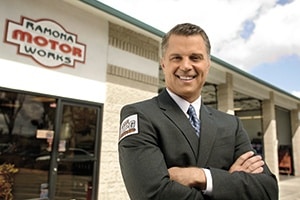 Service Writing
Accurate service writing sets the stage for an efficient repair and positive customer experience. In fact, effective and profitable service writing can make or break your repair business, so having the right tools to help you get the most out of your customer interactions is critical to success. Leverage robust service writing features designed to increase your staff's efficiency and maximize your profits on every job, including:
– Point-of-Sale (POS) software designed to be used by your service advisors all day long
– Intuitive, Graphical User Interface (GUI) similar to Microsoft Office® products
– Built-in templates and authoring tools to create customized maintenance plans, reports and common concerns responses
– Vehicle maintenance history records automatically maintained and service reminders automatically generated based on the assigned Maintenance Plan
– Plate to Vehicle Identification Number (VIN) and automatic VIN decode
– Access to industry-standard catalogs such as Aconnex, CARQUEST, NAPA, WorldPac, ACDelco, IAP, Nexpart and the ATD and TCI Tire catalogs
– Signature capture
Integrated Marketing
A suite of integrated marketing tools will help you increase your car count, retain customers and increase customer satisfaction while driving profit. Any business owner knows how easy it is to lose a customer. With ManagerEnterprise Pro, it has never been easier to keep your existing customers and attract new customers. Communicate your marketing messages and connect more effectively with customers with these tools:
– New customer thank-you
– Maintenance reminders
– Deferred repair reminders
– Appointment reminders
Integrated Payment Processing
Save time and increase security by processing credit and debit card payments directly from your shop management software. Reduce manual paperwork so your employees can work more efficiently and effectively. By using a single integrated system, you'll also speed up the payment process for customers, increase accuracy, and reduce your electronic payment costs.
Back Office
Powerful tools support your business behind the scenes to help you manage everything from workflow, inventory and vehicle contacts, to multiple divisions within a franchise. ManagerEnterprise Pro is designed for multiple users and runs on any number of workstations at any number of locations. Integrated email enhances communication and efficiency, while scheduling features help keep your everyday operations running smoothly. Back office features include:
– Check inventory at different locations
– User-defined service categories and profit centers and multiple part price matrices
– Powerful contact and vehicle management features for unlimited contacts, contact categories, contact sites, vehicles and groups of fleet vehicles
– Integrated e-mail system allows you to send e-mail messages, work order documents, credit slips, receivables statements, purchase orders and reports directly from inside ManagerEnterprise Pro
– Scheduling system organizes appointments and promised job completion times by no-shows, today's work, work on hold and future work
– Workflow management system follows individual jobs through all work stages, including tech assignment, inspections, tech reporting, estimating, customer authorizations, tech instructions and invoicing
Accounting and General Ledger
ManagerEnterprise Pro offers a full-featured accounting module designed to help you manage well to save time and money. User-friendly navigation lets you quickly access your customer and supplier account information. Improve the accuracy of your important accounting data with tightly integrated accounts receivable and accounts payable functionality, comprehensive tax tracking and cash management, and a wide variety of other accounting and general ledger features including:
– Integrated general ledger
– Automated real-time ledger updates
– Accounts receivable
– Accounts payable
– Tax remittance
– Cash balance
– Bank register
– Monthly operating statement
– Supplier cores handling
– Returned goods handling
– Customizable dashboard allows near real-time status reporting of sales & cost of sales organized by profit centers and service categories for each location, division and the entire enterprise
– General ledger tools generate audit trail, trial balance, income statement, balance sheet and account journal reports interactively
Management and Financial Reporting
Robust reporting lets you dive into your performance to see where you're doing well and where you need to make adjustments. Use the Reports Manager to generate management and financial reports based on a variety of applicable parameters and user-defined reporting periods. All reports may be added to a customizable dashboard that will provide updated information at a glance. Individual users can create their own customized reports and dashboards that can be printed and/or exported to other Windows programs. Prepare and deliver custom reports on any schedule your business requires. Reports include:
– Sales and gross profit by category, service advisor, or technician
– Invoice summary and cost analysis
– Taxes and other charges
– Inventory sales, costs, history, forecast and physical count
– Returned goods bin
– Accounts receivable & payable detail and summary
– Contact and vehicle reports and lists
– Time clock/technician hours
– Service reminders
– Thank-you lists
– And many more…
Parts Management
Efficient parts ordering is often challenging, but is essential to a smooth and productive shop workflow — and can significantly improve your bottom line. That's where the automated parts management tools in ManagerEnterprise Pro can help you gain control. Streamline every step of parts procurement from ordering and receiving parts to tracking parts costs and inventory management for all locations. Parts management features include:
– Perpetual supplies inventory for accurate expense tracking (for in-house consumption and supplies used in the shop)
– Completely integrated purchase ordering system
– Online parts pricing and ordering (with participating suppliers)