Our rock-solid Caller ID hardware is backed with a 2-year warranty and technical support during the entire product warranty period.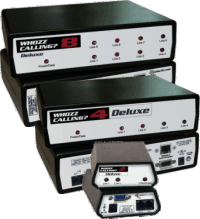 Product Features
→ Capable of both inbound and outbound Caller ID capture.
→ Ethernet or Serial Port models available.
→ USB to Serial Port adapter cables make a USB connection a snap.
→ Free pop-up and logging programs, or use software from our partners.
→ Approved in 74 countries covering all international Caller ID formats.
→ Compatible with all analog and VoIP phone lines.
→ Easy integration into applications with free development tools.
New to Computer Caller ID?
Most users are new to computer telephony integration and our knowledgeable sales staff will listen to your needs, suggest solutions, and guide you in terms you will understand. All technical issues will be addressed to ensure successful results before we accept your order.
Complete Packages
If you are looking for a solution for your home or business, we offer complete packages including software, hardware, and data & phone cables making installation a snap.
Risk Free Ordering
We offer a 45 day money back guarantee and a 90 day exchange policy. If you change your mind, simply contact us, return your hardware, and receive a full refund or exchange devices without penalty.
Unlimited Free Technical Support
Our knowledgeable staff will make sure that your installation is quick and painless. They are extremely well-versed in both computer and telephony issues.
Two Year Warranty 
All products are backed by a 2-year warranty. We will repair, free of charge, any product that fails under normal use for a period of 2 years.
If you need Caller ID popup screens with your VoIP phone service, the Vertex is the solution.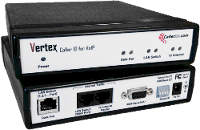 Pop-up Customer Records
Even before answering a call, the customer's record can be shown. This allows employees a moment to review the client's information before responding.
Personalize Your Phone Calls
Having your customer's information in front of you allows you to tailor your conversation to their needs.
Save Time Taking Orders
Save precious seconds during peak hours by customers automatically being pulled up.
Call Back Unanswered Customers
The hardware tracks whether calls have been answered or not.
Adjust Telephony Staffing
Unit reports the time it takes to answer each call and the call duration.
Build Your Prospect List
Software is available to "quick fill" new records with Caller ID names and numbers.
Bill Clients for Phone Hours
Charge based on the total duration of all calls to and from your customers.
Track Telemarketing Productivity
Examine the number of calls made and duration on the phone for each.