Meridian Star
Restaurant – Quick-Service/Table Service


Running a restaurant requires a lot of hard work and long hours. Keeping customers happy and returning, tracking which menu items are profitable, ordering the correct amount of stock and supervising employees, are the main ingredients to a successful restaurant. Using the valuable inventory tracking, employee tracking and easy-to-use touch screen interface in Meridian Star's Point of Sale system will help you manage your restaurant.
‣ Switch between open tables and settle payment, with just a touch
‣ Splitting a check or refunding a split is simple and hassle-free
‣ Customer management for delivery and carry-out
‣ Customer loyalty programs (i.e. Beer Club, gift cards, coupons and more)
‣ Easy to manage food cost and inventory
‣ Employee management controlled by quickly adjusted security levels
‣ Full reporting suite; sales, time clock, employee activity and more!
Pizzeria – Dine-In/Take-Out/Delivery

Whether you own a local pizzeria, have multiple locations, or are planning for a national franchise, Meridian Star POS will help you save valuable time and generate profit. We provide the best and most cost-effective POS Systems nationwide. Our software also allows for fast and accurate order processing. Our efficient training allows employees to start using the system immediately. Some additional features include:
‣ Taking over-the-counter orders faster and easier than ever
‣ Caller ID, full customer management and reporting
‣ Delivery tracking; manage orders and drivers on one touch screen
‣ Ease of pricing for half-pie toppings and multiple sizes
‣ Online ordering integration
‣ Customer Loyalty Programs; coupons, gift cards and more
‣ Complete reporting suite; sales, time clock, employee activity, and much more!
Bar & Nightclub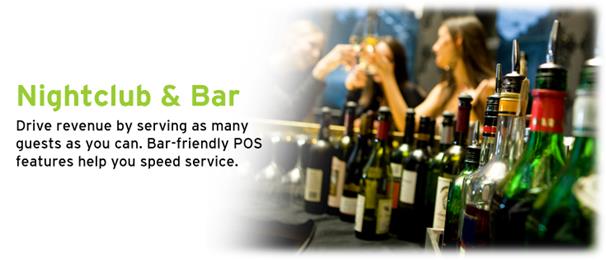 Bars come in many varieties — fast paced or relaxed, casual or fancy, full service with food or just drinks. A point of sale system can provide important benefits to a bar, helping provide for speedy transactions, accurate inventory and security features that help ensure you're receiving the amount of money you should be. Meridian Star provides a restaurant point of sale system that has the features needed to help run bars and nightclubs accurately and efficiently.
‣ Easy to manage open tabs (switch between them and settle payment with just a touch.)
‣ Driver's License Verification
‣ "Recipes" screen allows bartenders to look up drink mixes.
‣ "Check Description" allow bartenders to label their tabs.
‣ Display stock amounts on buttons and adjust quantity from the front end.
‣ Flexible on-screen design – The buttons come out where you need them and in the order you need them in.
‣ Price scheduling & price levels that automatically adjust pricing based on time (happy hour), or other factors.
‣ Full reporting suite; sales, time clock, employee activity, and more!