Customer Communication Tools
Get the ultimate Manager SE experience with ProPack, a powerful collection of tools to take your customer interaction and management to another level. ProPack helps you increase customer loyalty, communication and satisfaction, and delivers reports to give you deeper insights into customer behavior.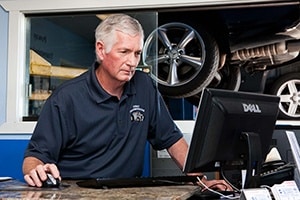 Report Pro
Project a professional impression with customizable invoices. Report Pro gives you unparalleled control of your message to add your logo, shop slogan, complete contact information including Web address, Facebook and Twitter address, credit card affiliations, industry affiliations and so much more. And, you can list work performed by job, not the old model of parts on one side, labor on the other. It also prints a QR code with your customer's next scheduled service date. You can even include a coupon for a special discount.
Impress customers by customizing your technician worksheet with history and create multi-point inspection worksheets for your customers, showing what was inspected, what recommendations you're making and when service should be performed.
Message Pro
Ever left a voicemail or email message only to have your customer see it too late? Now you can send text messages directly from Manager SE to your customer's mobile phone and customers will see that important message from you in time to act. Just choose your customer and a canned message, or type your own message and click send – no need to look up phone numbers or dial manually.
Lube Sticker Pro
Lube stickers have been around forever – and Lube Sticker Pro is the next generation. Set your interval and lube type – the system prints a windshield sticker, accurately predicts when the customer should return, automatically schedules the next service appointment, and generates a recommendation for the vehicle. It even sends a text message reminder to your customer.