ZOOM® Drive-Thru Timer System
More than a Drive-Thru Timer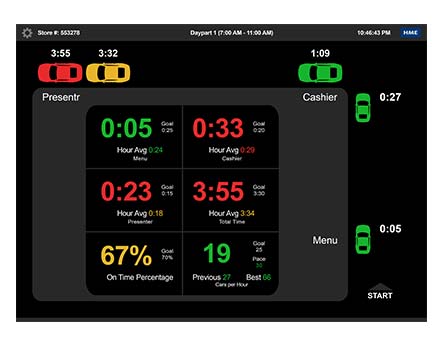 A profitable drive-thru requires speed, accuracy, and the ability to adapt to ever-changing conditions.
→ Unlike most timers, the ZOOM timer provides complete visibility into your entire operation. Its intuitive, multi-color dashboard, customizable reports and network accessibility make managing your drive-thru easier than ever.
→ The ZOOM timer system provides a real-time picture of your whole drive-thru, so managers and crew can instantly identify bottlenecks and take immediate action.
→ Now with Matrix POS CLOUD®, ZOOM is more accessible than ever. Link all of your stores to one account and update settings or view reports and dashboards from anywhere.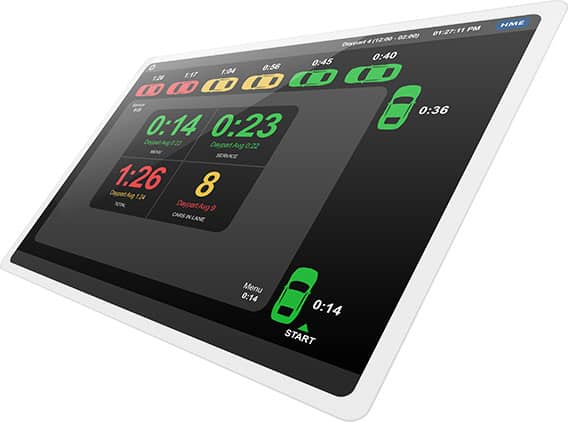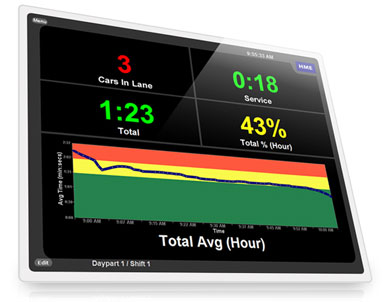 See how many cars are in the drive-thru lane, and understand what's happening at a glance. Green is good, yellow means pay attention, and red means speed it up!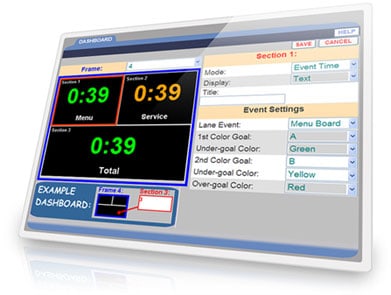 ZOOM's intuitive, user-friendly design makes it easy to set up and configure to meet your drive-thru operational goals.
ZOOM Drive-Thru Timer with Graphical Dashboard Display
A whole new way of looking at drive-thru operations. The ZOOM timer system features a bright dashboard display that presents up to eight customizable, real-time events to compare actual service times to goals.
→ Easily seen from anywhere, and easily configured to meet your preferences.
→ Bright colors and easy-to-read graphics provide an instant picture of what's happening.
→ Real-time drive-thru management.
→ Immediate feedback keeps crews motivated and running at peak efficiency.
Drive-Thru Time System with Flexible Reporting
The ZOOM drive-thru timer system lets you generate preconfigured or customized reports with ease.
→ Pie chart, bar, trend and other graphical reports provide new insight and instant feedback on drive-thru performance
→ Identify trends and anticipate and resolve problems with ease.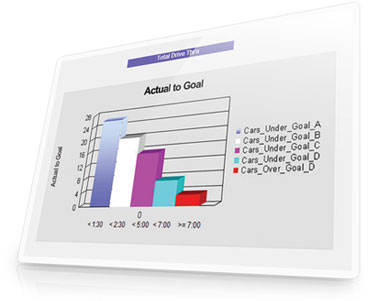 Multiple events are displayed at a single glance in text or graphical formats on the ZOOM dashboard display.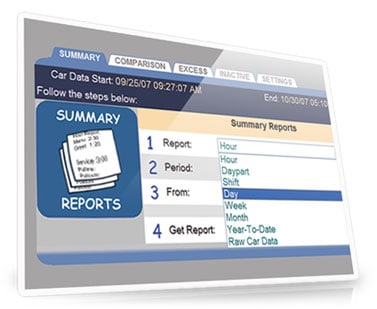 Graphical reports streamline information and help analyze data more efficiently.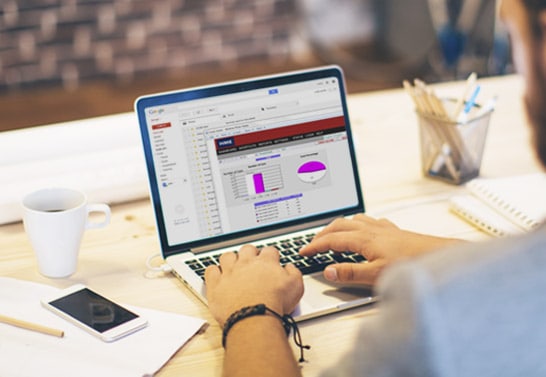 Network Accessible
The ZOOM drive-thru timer system is 'network-ready', putting critical information at your fingertips anytime, anywhere.
→ View real-time drive-thru activity or access reports from the ZOOM display monitor, from your PC in the back office, even via the Internet from a remote location
→ Collect, print and visually compare the timer data from multiple stores with ease.
→ Standardized settings allow you to view, adjust and upload drive-thru timer settings to ensure consistent parameters across multiple stores.
→ Network accessibility allows for remote support, so problems can be fixed without interrupting store operations.

Take Your Drive-Thru to Optimal Speeds with DTOS
ZOOM Drive-Thru Timer is an essential component of Matrix POS's Drive-Thru Optimization System (DTOS), which also includes Drive-Thru Leaderboard and Matrix POS CLOUD. DTOS delivers the optimal drive-thru experience by providing your crew, managers, and supervisors the information needed to drive sales and increase car counts.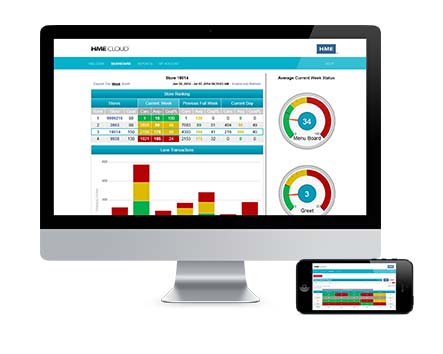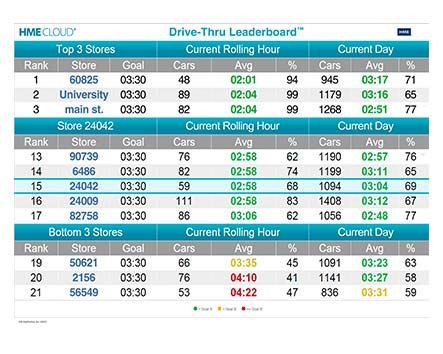 Multi-Store Management with Ease
By pairing ZOOM with Matrix POS CLOUD, you can monitor your entire enterprise from anywhere with Internet access. In one view compare the performance of each store against others in your organization in real time with multi-store dashboards. Immediately identify high- and low-performing stores, and easily drill down to the details to see why individual stores are performing well or not meeting expectations.
→ Easy-to-read multi-store dashboards allow you to visually monitor your entire enterprise in one view.
→ Use store rankings to challenge managers to compete against one another to meet specific goals.
→ Multi-store reporting provides in-depth, real-time analysis of your entire operation with customizable reports.
→ Network accessibility allows for remote software upgrades, support, and more.
Drive-Thru Leaderboard Motivates Employees, Providing for Faster Speed of Service
Create a speed of service competition across your entire operation, resulting in faster service and a better customer experience across your entire operation. Drive-Thru Leaderboard ranks stores based on speed of service, from top performing to underperforming, so crewmembers can see how their restaurant ranks against others in their organization. As employees strive to improve their overall ranking, they simultaneously improve speed of service, productivity, and customer service.
With Drive-Thru Leaderboard your stores experience:
→ Engaged employees and increased productivity
→ Renewed sense of teamwork, resulting in enhanced customer service
→ Increased profitability